Can anyone make a t-shirt and jeans look as good as Jennifer Aniston? Not many. She is over-the-top beautiful. And I'm hard-pressed to find a pic of her which looks outdated. Her taste is
almost
--and I mean this in the nicest possible way--a non-style. Almost. Her style is more than the clothes on her body. How can one mimic this beauty-is-more-than-skin-deep magnetism? Read on.
Photo source
Anniston wears casual classics almost exclusively. She's a woman on the go, looking comfy as she moves. A style that requires white tanks and jeans? Awesome. This is a particularly good look for full time moms and those in child care. To keep it from looking frumpy, don't neglect your simple accessories.
Photo source
Speaking of accessories, Anniston proudly wears hers more than once. I love this about her. It's so refreshing to see a celebrity getting her use out of something. It requires courage, since there seems to be some unwritten Hollywood law about not being caught in the same item more than once.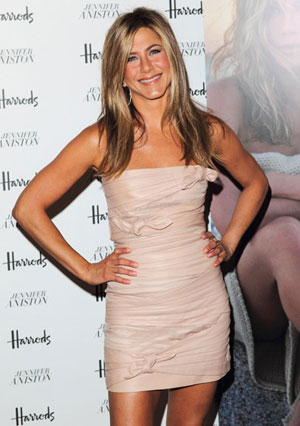 Photo source
Notice, too, that when Aniston dresses up, she sticks to classic, form-fitting pieces. It seems to be her philosophy no matter what degree of formality or length of dress she's wearing. This dress is surprisingly one of her most complicated looks, which isn't saying much. Lovely.
Photo source
Most importantly to her look is the fact that Aniston takes care of herself. She has a reputation for healthy eating and has reportedly said she works out seven days a week, according to fitsugar.com. She is also an avid runner. Fitness is certainly working for her. I recently saw a quote that said, "Don't be angry for the results you didn't get from the workout you didn't do." Yikes. Well, this is clearly not a problem for a devoted Aniston.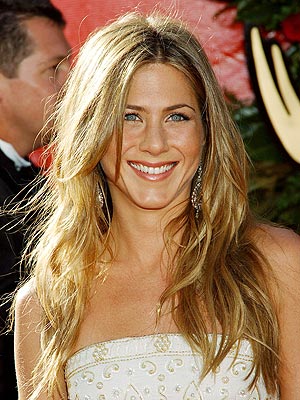 Photo source
While Jennifer's highlights may not be completely natural, she doesn't appear be in any fights with her hair. You know the kind I'm talking about...color so far from a person's natural color, or hair that is a far cry from it's original texture. In so many ways she's using what her mama gave her. Simple hair, lightly bronzed skin, and a beautiful smile make her seem approachable and like you'd like to be
Friends
.
Blessings!